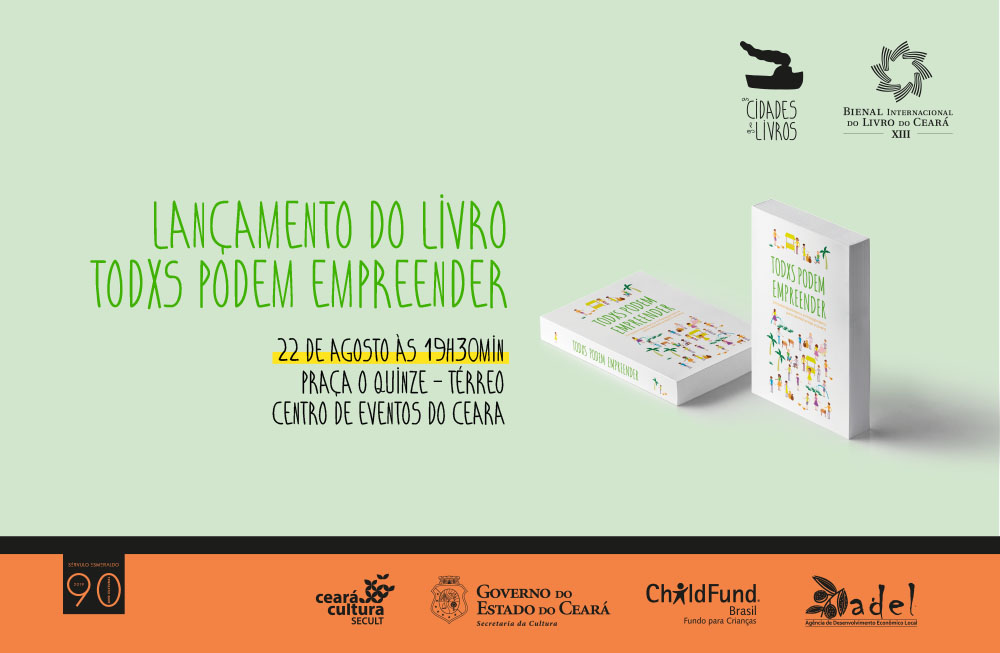 The Local Economic Development Agency (Adel), in partnership with the ChildFund Brazil, launches next Thursday (22), at 7:30 pm, the book "All Can Undertake – Entrepreneurship and Leadership for young people ". In this production, organizations include entrepreneurial experiences lived in rural areas, In addition to bringing technical concepts to which children and adolescents can undertake and being protagonists of their life projects.
The launch will be on XIII International Book Biennial of Ceará, where the Adel and the ChildFund Brazil promotes a talk show with the presence of Gláucio Gomes, one of the organizers of the book and Director of development of Adel; Alexandra Mann, Vice President and Project Director of the Entrepreneurial Alliance; Gabriel Babatunde, ChildFund's Social Development Manager Brazil; e, Romania Castro, Young entrepreneur countryside of Pentecost.
With 11 years of experience, the Adel works with sustainable coexistence strategies, encouraging leadership and entrepreneurship to the development of people in contexts of high resilience. With the theme "cities and books", the XIII International Book Biennial of Ceara will be held between 16 e 25 August at the event Center of Ceará, in Fortaleza.
The event is an initiative of the Government of the State of Ceará, through the Secretariat of culture (Secult), in partnership with the Instituto Dragão do Mar and support of the Ministry of citizenship, through the Rouanet law of cultural incentive. This year, the biennial will be under the curatorship of the writer Ana Miranda and the writers and professors Inés Cardoso and Carlos Valdez, with the coordination of Sheridan Albuquerque, also book policy coordinator, reading, literature and Secult libraries.
Service
Release of the book "All Can Undertake – Entrepreneurship and Leadership for young people "in the XIII International Book Biennial of Ceará
When: 22 August 2019, at 7:30 pm
Where: Events Center – The Square Fifteen – Floor
Address: AV. Washington Soares, 999 – Edson Queiroz, Fortress – THIS
Free entry
http://www.adel.org.br/wp-content/uploads/2019/08/site.jpg
653
1000
Adel
http://www.adel.org.br/wp-content/uploads/2016/07/logo.png
Adel
2019-08-16 14:00:22
2019-08-20 13:12:48
Adel participates in the XIII International Book Biennial of Ceará